Mainland Mexico
Will and I wanted to continue our journey with each other by getting married in an exciting new place. But we also wanted to share a relaxing mini-vacation with family and friends.
After our trip to San Carlos, Mexico - in the Sea of Cortez between the mainland and the Baja peninsula - we knew we wanted to spend more time 'south of the border'.
Puerto Vallarta has always stood out as a place we both would enjoy visiting, but after reading and talking with friends who have recently visited the area, it sounded too loud and complicated for the calm and simple wedding we wanted to have.
We did some research and found a sweet town, just 10 minutes north of the Puerto Vallarta Airport, with the longest, creamiest beach in the Bay of Banderas. Perfect.
Bucerias, Najarit, Mexico
Bucerias, "the place of the divers," is what Puerto Vallarta was 25 years ago. Bucerias has about 20,000 residents; about 1,000 of them are American, Canadian, and European expatriates.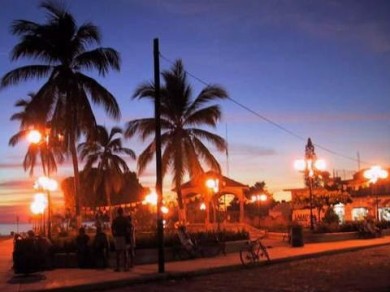 The town is composed of cobblestone and dirt streets, with palm trees and tropical flowers dotting the landscape. Warm water and perfect waves make it a great place for surfing, boogie boarding, snorkeling, swimming, and sunbathing
Quaint hotels and luxurious villas will accommodate anyone's preferences for accommodations; the restaurants are said to be wonderful, with fresh seafood, grilled meats, fresh fruits and vegetables, and delicate deserts.
Casa Playita
Casa Playita is a small private beachfront villa resort, situated in downtown Bucerias. The villas open up right on the beach, we couldn't dream of a better place to get married.
Airport Information and Directions
Puerto Vallarta's International Airport, Gustavo Díaz Ordaz, is served by twelve major airlines and charter companies that include Aero Mexico, Alaska Airlines, America West, American Airlines, Air Canada, Continental Airlines, Delta Air Lines, Mexicana de Aviacion, North West Airlines, and TWA.
The airport is located in the northern section of the city, just past Marina Vallarta. It is right between Bucerias (about 12 miles Northwest on Highway 200) and Puerto Vallarta proper (to the Southeast).
Transportation to and from the airport is primarily by taxi (Areomovil) or combi bus (Colectivo minivan). Taxi and combi buses charge rates based on zones of travel. Charges for Areomovil transportation are a little more expensive than regular taxi service.
Taxi and combi minivans are paid for before entering the vehicle... at a small kiosk located just outside the terminal building exit. Once you have obtained your ticket, the driver will escort you to your vehicle. The ticket is then handed to the parking attendant at the parking lot exit and you are on your way.
If you want adventure, you can walk a few meters to the highway (out the right exit of the airport) and flag down a taxi, that should save you about US$5-10. For those of you who are traveling light, we recommend catching a local bus for USD$0.30 (3 pesos).
Maps
Casa Playita is between Lazaro Cardenas and the beach, between Abasolo and Javier Mina. Look up and one block left of the killer whale on the map: http://www.las-palmas-travel.com/mapbucerias.htm.
Weather
Bucerias in December will have temperatures ranging from 65-80F (18-27C) with ocean temperatures around 80F (27C). The current weather in Bucerias is available from Accuweather.
Money
The peso is the currency of Mexico, with an exchange rate of about 10 per one US dollar. In a bind, most people will accept US currency. The current exchange rate is available from Yahoo Finance, with options for Canadian dollar and British pound conversions too.
Be careful when converting currency - check the exchange rates! We have found that most airport 'services' are mostly about servicing their own profit margin. Change money at a local bank before you leave. Bring small bills - 1US are perfect - for cab, dinner, and busboy tips. Also don't assume that ATMs will be readily available.
Emergency Contact Numbers
We really hope you won't need to use these numbers, but being prepared is the best prevention.
To dial Mexico from another country, first dial the international code for the country you are in (Canada and US: 011, UK: 00, from most cellphones: +). Then dial the country code you are calling - Mexico is 52. Then dial the phone number listed below.
US Consulate, Puerto Vallarta: 322-222-0069;
after hours: 333-826-5553
Canadian Consulate: 322-222-5398;
after hours: 800-706-2900
Bristish Embassy, Mexico City: 555-207-2449
Ambulance, Santa Rosa Clinic, Bucerias: 329-298-0157
Ambulance, Red Cross: 322-222-1533
Ameri-Med Hospital, Puerto Vallarta: 322-221-0023